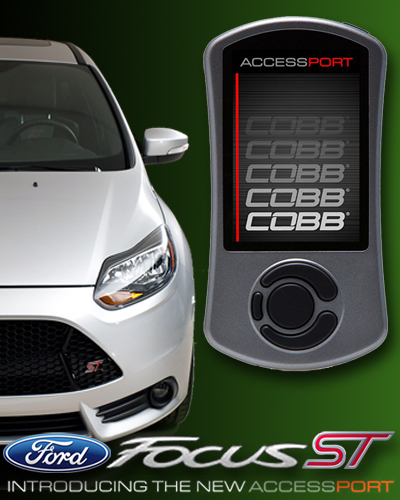 The Accessport V3 is the world's best selling, most flexible, and easiest to use ECU upgrade solution for your Mazda. Unlock power hidden within the vehicle by replacing conservative factory settings with more aggressive calibrations. Follow our staged upgrade path with preloaded Off The Shelf (OTS) maps or use custom mapping for any modification level. It's the last engine management solution you'll ever need.

But the AccessPORT is so much MORE than just a REFLASH DEVICE. It allows you to monitor your Fuel Economy (average and real time), perform performance tests in order to estimate your 0-60mph and 1/4 mile time, read and decipher ECU trouble codes (CELs), and monitor live data via the OEM vehicle sensors which eliminates the need for costly and cluttering aftermarket gauges!

The V3 Cobb AccessPORT is currently available for the North American Ford Focus ST.

The Cobb AccessPORT Kit Includes:
AccessPORT
Quick Start User Guide
USB Cable
OBDII Connector Cable
Software CD
Soft Carrying Case
Mounting Cradle
Interchangable Bezel
Overview
Features
MMCCS
Disclaimer
Ford Accessport V3 Highlights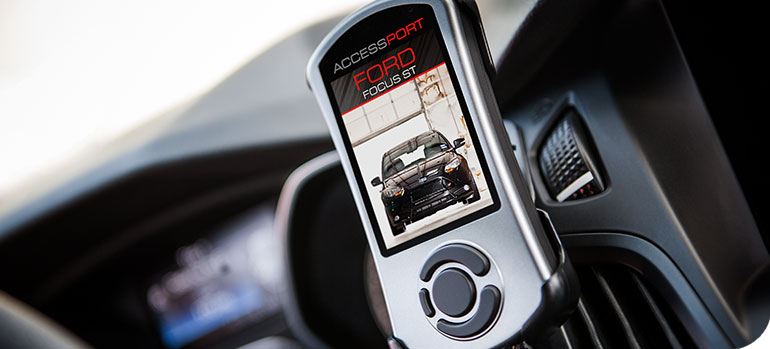 Larger, full color, higher resolution screen
We super sized the screen for ease of use and better monitoring. Full text help menus, multi-gauge layouts, full map descriptions and more. This screen has room to spare - so no need to run back to your laptop.
---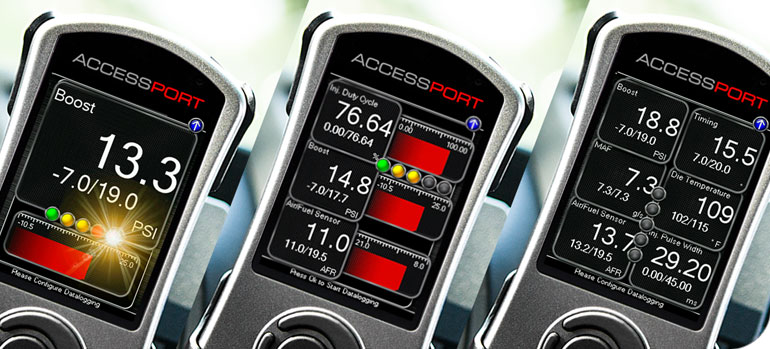 Customizable multi-gauge display
Want gauges? No problem. The V3 now supports up to 6 fully customizable gauges with 1/1000 resolution. Monitor all the parameters you want to see and customize each layout for street, strip or track.
---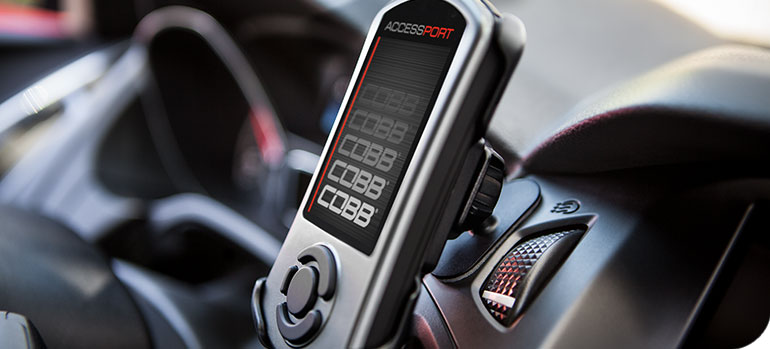 In vehicle mount, with on/off switch
There is nothing we like more to see than an AP peeking over the dash. With the on/off button and using the included universal mount or vehicle specific options, there is no reason not to run your AP in-vehicle.
---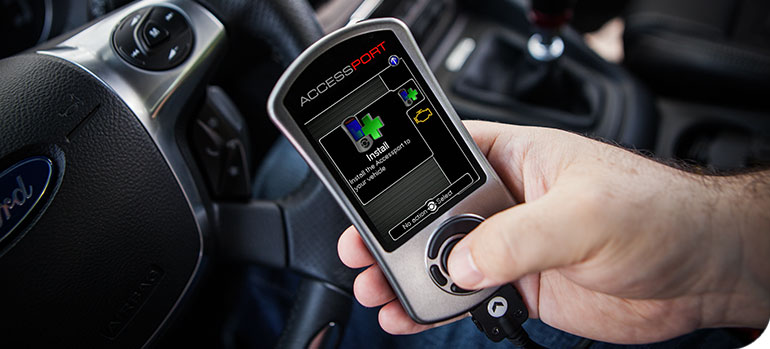 Faster and easier to use with a familiar face
We listened to what you wanted. Use your same maps, monitor your same parameters, and troubleshoot your same codes, but now with more. More speed, more memory, more map storage, more live gauges, and more troubleshooting help.
---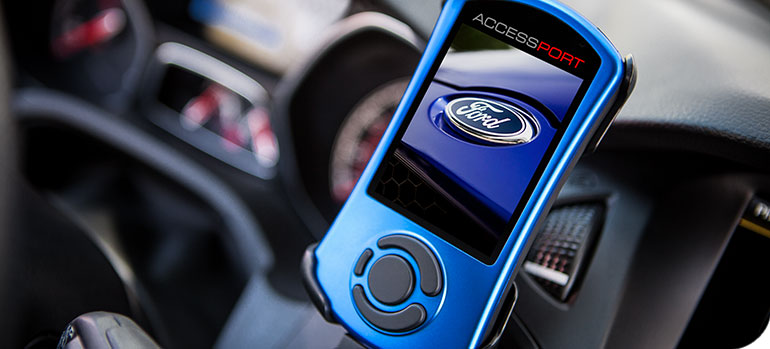 Interchangeable faceplates
Is it your Accessport or our Accessport? It's yours. Customize it as you see fit. The new V3 comes with 2 interchangeable bezels, blue and grey, or put your own touches on one.
Simple Installation:

Everything is included for the simple installation! Intuitive on-screen instructions identify your exact vehicle and available maps.

Simple Uninstall:

Revert your ECU to exactly as it was before with the easy to use Uninstall option from the main menu.

Trouble Codes:

Read engine trouble codes to diagnose issues. Clear them when resolved. Prevent expensive trips to the dealership.

Change Maps:

Store up to 100 maps from our OTS map database or from your favorite COBB tuner and quickly switch between them for any need.

Gauges

– Use your Accessport as a gauge to monitor boost or any other live information, directly from the ECU.

Data Logging:

Record multiple data channels simultaneously for in-depth evaluation of engine performance. Stores up to 10 hours.

Performance Measuring:

Welcome to your own performance evaluation suite! Measure 0-60 mph time, 60 foot and ¼ mile ET's. and Trap Speed.

Shift Light:

Set custom RPM warning lights for perfect shifts every time.

AP Manager:

Use your PC or Mac to manage maps, download recorded datalogs, or quickly update your Accessport. Download free from right

HERE

.

---
For new MazdaManiac AccessPORT customers or those that may have purchased their Cobb AccessPORT from another source, MazdaManiac offers application-specific, customized tuning calibration files through the MazdaManiac Custom Calibration Service.
These model and modification-specific calibrations are the product of hundreds of hours of tuning and testing and are available for all normally aspirated and forced-induction applications, including those with custom intakes, exhausts, mid-pipes, down-pipes, CAT-deletes, ignition systems, turbochargers, superchargers and nitrous.
The Custom Calibration service begins with a start-up or "base" file that you select from a matrix of start-up options, based on the modifications and model/year of your particular vehicle.
After following the step-by-step instructions you will receive after subscribing to the service and selecting the appropriate start-up calibration, you will then submit datalogs in real time via Google Hangouts on the dates and times listed in the linked schedule below for additional personalized customizations and adjustments specific to your particular vehicle. You may continue to do this over a period of up to six (6) months from date of original purchase, based on your needs and data you provide about your vehicle's performance and engine data to further enhance the power and drivability of your car.

Those that have acquired their AccessPORT from other sources or are wishing to extend their MazdaManiac Custom Calibration Service subscription beyond the six month service period can purchase this service using the "Add to Cart" option to the right.
Base calibrations are provided by download and updates are generated in real-time via Google Hangouts, so there is no additional shipping and handling charge! To participate, you will need an internet connection and access to Google Hangouts.

MazdaManiac
Custom Calibration Service®

| | | |
| --- | --- | --- |
| | | |
| | | |
| | | |
*All prices subject to change. Does not include shipping and handling. Shipping and handling charge added at checkout. All parts, calibration files and upgrades are offered "as is". Payment must be made in full at time of order. Checks or money orders are accepted, but must clear before order is initiated. Bank transfers are also accepted. Purchaser must pay all additional fees incurred by the transaction. ALL SALES ARE FINAL. NO RETURNS, NO REFUNDS. Orders are processed in the sequence in which they are received. Orders will typically ship within 11 business days from receipt of payment. Shipping times vary by destination. Shipping is by UPS to the USA and USPS to all other locations MazdaManiac does not offer expressed or implied warranty on any parts, kits or calibration files offered and accepts no responsibility for any damages, either direct or consequential, caused by the use of these parts or calibration files. The MazdaManiac Custom Calibration Service is provided ONLY to the original purchaser and is NON-TRANSFERRABLE. MazdaManiac does NOT offer phone support. All requests for support must be initiated via e-mail. "Cobb" and "AccessPORT" are registered trademarks of Cobb Tuning. "MazdaManiac" and "Custom Calibration Service" are registered trademarks of MazdaManiac LLC. All rights reserved.
©2014 MazdaManiac.com